Punta Gorda Town, Toledo — April 6, 2016) As Guatemalan military confronts SATIIM's patrol in the Sarstoon River this week SATIIM asks if there is a new international directive for travelling in the Sarstoon River.
The Guatemalan military informed SATIIM on Tuesday, April 5th 2016 that all visits to the Sarstoon must be reported to them. This is a new chapter in park monitoring by SATIIM. Over its many years of monitoring along the Sarstoon, SATIIM has never had to inform Guatemala of its patrols. The Belize Defence Force Outpost station was informed of the SATIIM patrol and had granted permission to proceed up the Sarstoon. This latest encounter is an indication that the international quarrel between Belize and Guatemala has implications for a Belizean NGO tasked with monitoring the Sarstoon Temash National Park (STNP). The southern border of the park is the Sarstoon River and the easiest way of patrolling it is via the Sarstoon River.
"There is little doubt that unless areas are monitored, illegal activity takes place, destroying this fragile, eco-system," said Froyla Tzalam, SATIIM Executive Director.
Such was the case in the STNP as the SATIIM patrol documented fishing and logging camps along the Temash and Sarstoon Rivers. The suspected offenders are believed to be non-Belizeans. In addition, hundreds of acres of sphagnum moss was burnt most likely as the result of a camp fire. The Sarstoon Temash National Park (STNP) has the largest concentration of Sphagnum moss in Central America. The patrol also reported that numerous skiffs were heard travelling in the area for unknown purposes but it is likely that they are not Belizeans fishing at night.
While the Belize government unilaterally ended SATIIM's co-management agreement in the Sarstoon Temash National Park, community patrols have continued to report increased activity as a result of the large paths blasted through the park for oil exploration. These paths established easy access from the Sartsoon River straight through previously virgin areas. Alarmed with the increasing environmental damage, SATIIM continues to work with Mayan communities to monitor and document the damage in an otherwise neglected 'protected area.(
SATIIM is publicly asking that the Ministry of Foreign Affairs clarify the situation for Belizeans using the Sarstoon River.
________________________________________________________________________________________________________________________________
See the encounter here: https://youtu.be/wluutz0ZYIU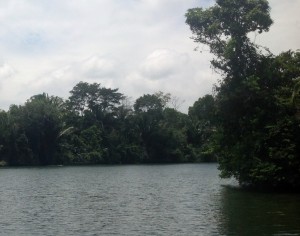 Guatemalan patrol boat lying in wait at the mouth of Black Creek.